[ad_1]
Hofa adai! Delectable. Delicious. And fresh, fresh, fresh! Over the years, many of us have enjoyed relaxing business lunches and dinners at the Issin Japanese Restaurant on the fourth floor of the Westin Resort Guam.
The reason is simple. The atmosphere is sophisticated, the service is prompt and polite, and the taste and presentation of the food is out of this world. All. Only. Time.
There, in the calm of an elegant Japanese dining room adorned with tropical touches, we savor authentic Japanese cuisine inspired by the culinary art of its founder, restaurateur Tamotsu "Tom" Iizuka.
From the best seafood from the world famous Tsukiji market in Tokyo, we sample sushi, sashimi, shrimp, octopus and squid and appetizers, smoked mahi mahi and rolls of spicy tuna. Plus, teriyaki chicken, certified Angus beef teppanyaki, whole coconut crab and lobster made to perfection. These are the fruits of Tamotsu-san's labor.
A man of relentless discipline, indefatigable industry and endless creativity, Iizuka, along with his lovely wife Masako, practiced his cooking magic in Guam for 50 years to the delight of customers close and from afar.
The Guam Visitors Bureau is delighted to honor Iizuka after a long and productive career as he prepares to retire this Christmas Eve. Guam's 36th legislature will also honor him with an appropriate resolution.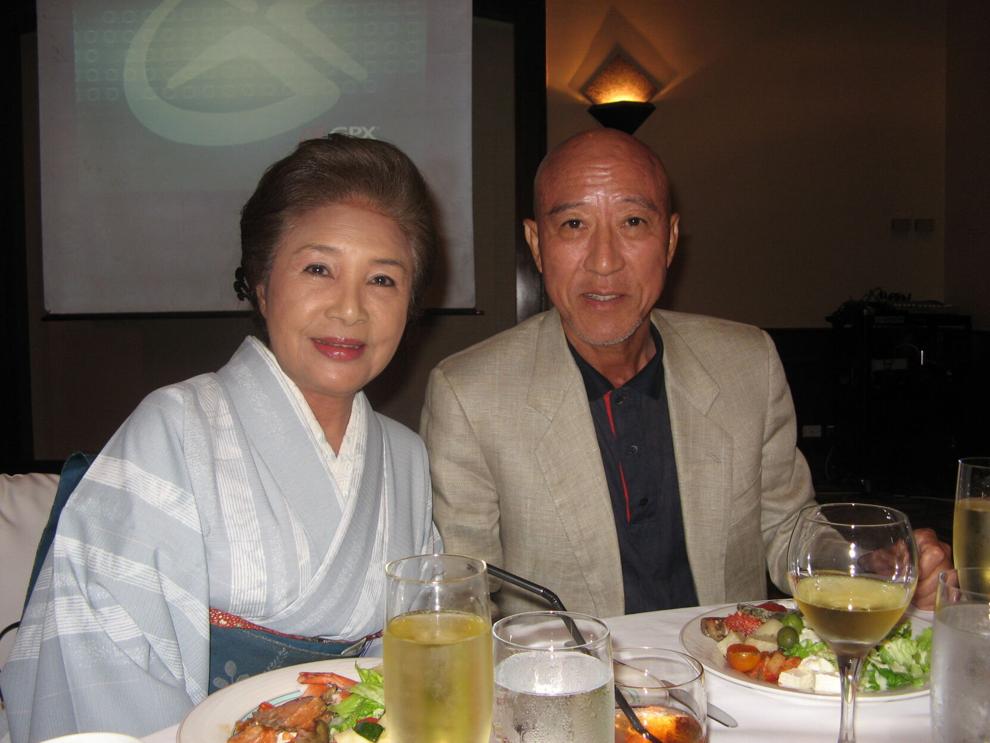 1966 start
Tom's food service journey began in 1966 at the Hilton Hotel in Tokyo. Then, in 1971, he followed up on a decision that changed his life. He moved to Guam, where he had accepted a position as beverage supervisor at the Hilton.
After his turns as manager of Genji restaurant and food and beverage manager at Hilton in the mid-1980s, Tom and Masako were up to a new challenge and set out to start their own restaurant. Masako nicknamed him Issin (One Heart). It opened at Fiesta Villa in Tumon across from the Bank of Guam in the spring of 1986.
Issin moved to the Royal Palm Hotel in the summer of 1993, but the infamous 8.1 magnitude earthquake that followed just two weeks later shut down all operations. Still persevering, six months later, the Iizukas opened the Tasuke restaurant across from the Hyatt Regency. Three years later, they reopened Issin and On The Rocks bar at the Westin Resort Guam. Tasuke would remain in business until 2009.
Tom, Masako, and their Guam-born beautiful daughters, Reina and Asami, have remained cherished friends to me and my family over the decades. In fact, Reina and my daughter Hannah attended college together at St. Anthony Catholic School.
Popular restaurant
Throughout my political and commercial career, I have often hosted guests and received friends and associates in Issin. And this is the place where I had several times a private audience with Governor Lou Leon Guerrero and the first gentleman Jeff Cook. This is because everyone knows that the atmosphere is upscale, the meals are impeccable and the service always second to none.
Masako is even known for donning a traditional kimono to make guests feel welcome in an authentic Japanese atmosphere.
For his part, Tom has been a consistent community player, serving at the executive level for the Make-A-Wish Foundation, the Japan Club of Guam, the Peace Ring of Guam, the Japan Festival, and the Kosai Kai Mini Shrine Parade.
As a perfectionist who expects a lot from himself, Tom says he will spend time in the gym in retirement to stay healthy for his family and four grandsons. At Tamotsu Iizuka, we toast a fulfilling life based on hospitable service to all, with many more enjoyable years to come. Omédétou! Kanpai!
Former Governor Carl TC Gutierrez is Chairman and CEO of the Guam Visitors Bureau, Permitting Czar and Chairman of the Governor's Economic Strategy Board. Send your comments or questions to GVB at [email protected]
[ad_2]