The newly opened Japanese restaurant Oumi completes the holy trinity of what is, quite possibly, the most exciting 1-group dining concept of this year: 1-Arden in the new CapitaSpring. Sharing the same nest and farm-to-table approach with Australian coastal restaurant, Kaarla, head chef Lamley Chua marries traditional Japanese kappo cuisine with bold Australian flavors and techniques.
Take the tempura pancake, for example. He showcases his precision on the teppan grill where he cooks tempura gruyere until crispy. The cheese skirt lookalike is then generously topped with dollops of azure wild Australian scampi roe, bright orange pops of Japanese flying fish roe and creamy avocado slices – slathered in Ao-togarashi yoghurt (pepper soft green) to introduce a touch of spice. Each crunch releases a plethora of bold flavors to tantalize the taste buds.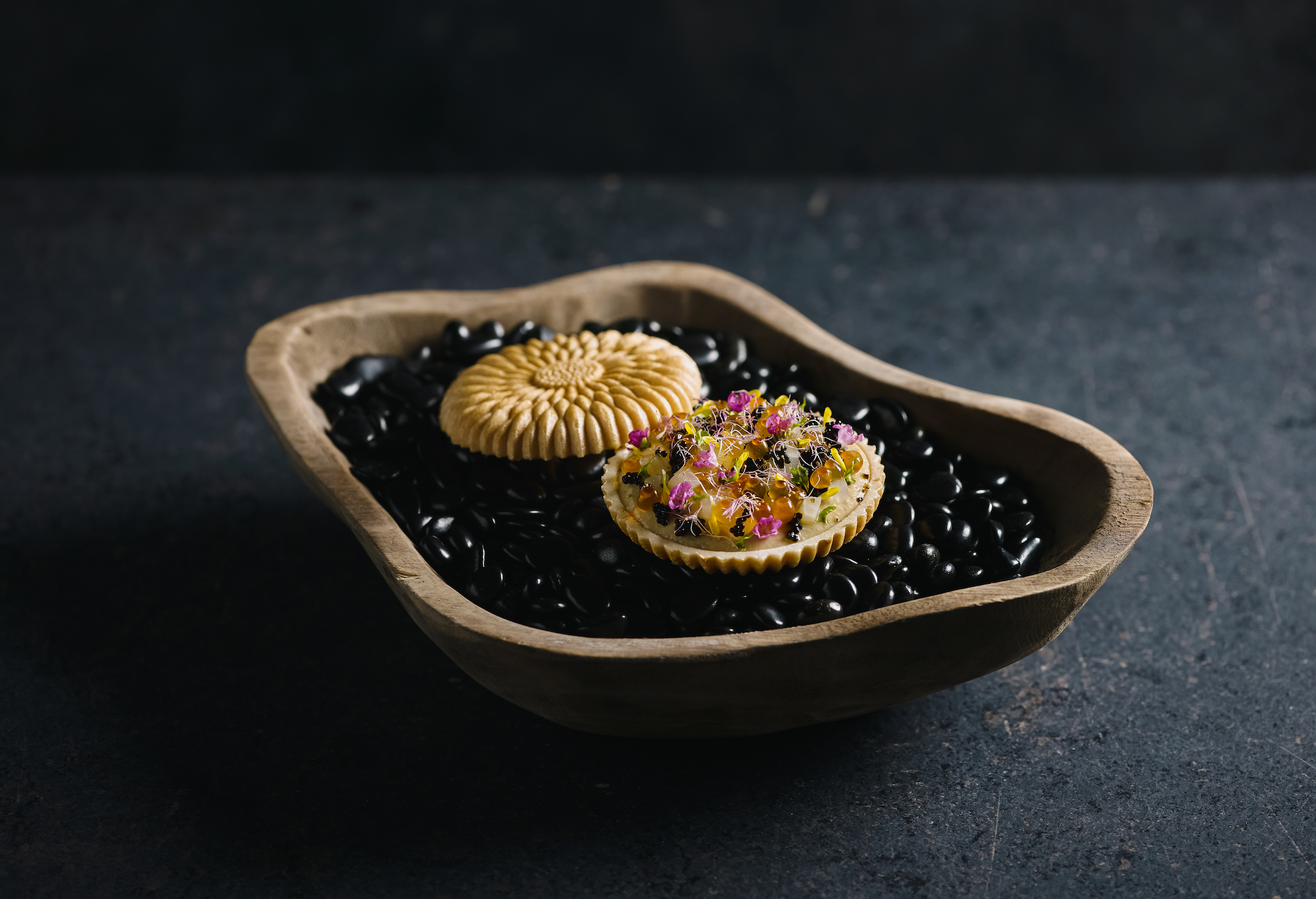 Another highlight is a variation of the traditional monaka. He first coaxes the foie gras by gently soaking it in milk overnight, which helps mellow out the overpowering flavors of the livery. Then it's artfully reimagined as a buttery ganache, tossed with fresh herbaceous Japanese green peppers and white miso. The ganache is finally channeled into a light wafer with salmon roe, flying fish roe and sweet kombu marinated daikon to finish.
Then there is a quintessential hassun (small seasonal dishes) where he pays homage to the traditional approach to kappo. He cleverly presents the tray with an assortment of five small plates and decorates them with foraged ingredients from the 1-Arden Food Forest – the highest urban farm in the world. Everything is in season, from pickles to grilled seafood. But if we had to choose, Momotaro cheese and nasu dengaku (miso-glazed eggplant) were the standout dishes.
The first sees Aussie cream cheese tossed with a ten-month-old house blend of miso, wedged between juicy slices of Momotaro tomatoes and finished with crispy nori rice puffs and wasabi dressing. The latter features sweet Australian eggplant, which is beautifully charred on a binchotan grill, coarsely chopped and adorned with crunchy golden buckwheat, sakura ebi and shiso.
Final Thoughts
Now, it would be purely misleading if Oumi calls itself a traditional Japanese omakase restaurant.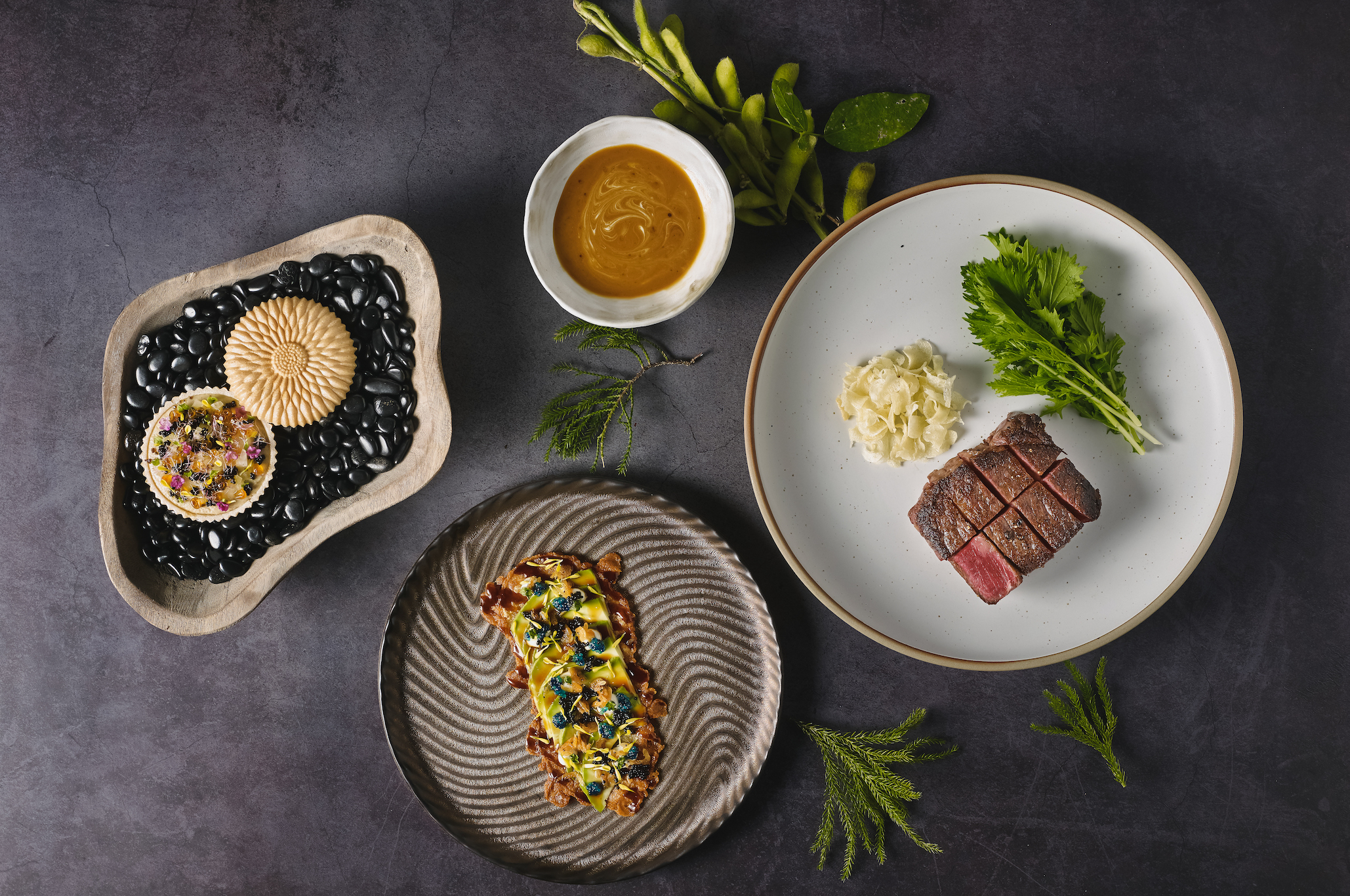 Instead, the nine-course omakase dining experience ($288) screams contemporary. It's a familiar feeling to sit along the open kitchen counter – an experience that resembles any other omakase dining experience with meticulous plating sequences. But foverhead warning, don't expect subtlety in this joint. The suave chef is quite daring and experimental with his food.
Not convinced? Don't worry, Oumi serves these dishes a la carte – quite the taste of omakase if you think about it – it's perfect for communal meals with friends and family. There's also a value-for-money four-course lunch ($65) that gives you a choice of an appetizer, main course, sushi bowl, and dessert.
Book here.
LILY AFTER
Stellar Food, Stunning Views, and Food Forest in the All-New 1-Arden
Ocean Restaurant reopens its doors with the famous starred chef Olivier Bellin
The new Hemlig restaurant is a culinary love letter to Scandinavian cuisine